Charlie Peach Blog
Political Views from Charlie!
Inconvenient Truth on Race & Racism in America
in Politics
By the time I've written what will be my "Maiden Voyage" into the blogging world, or at least the first that I've been willing to share with anyone for their critique, there will have been many articles on the most recent revelations on racism written by far more eloquent and esteemed writers/people than myself.
However, I have found over the last few weeks the cynical views of white privilege in their dismissal of racism as being nothing more than an excuse by black people looking for some special handout, to be more than untrue but rather painful for those of us who live that reality daily.
In the wake of Deen, Bundy, Sterling and even Cuban's egregious remarks, there has been much "ADO ABOUT SOMETHING" …something being this very sensitive issue of race and racism in America and until it's really addressed and not just talked about in echo chambers & silos of think tanks across America, the systemic destruction of its more painful affects will continue to linger on for generations to come. I find it interesting that white people seem to feel that if it is not talked about that it will somehow go away or that the older generations like the Donald & Shelly Sterling's of the world will die away leaving America cleansed of it's vile & dirty secret…but what they're dismissing is that racism is a learned behavior and those same people have raised and taught a generation of others who think and feel just as they do.
I am by no means of intellectual thought and preparedness as the very learned Dr. Michael E. Dyson but his words in response to Stephen A. Smith, were the very same words that I've been saying ad nauseam regarding Cuban's untimely, dangerous & irresponsible comments for months now. In thinking that an innocuous piece of clothing that any black male could wear (even the players on his team) would somehow be equal to what we all know was a "CYA" (cover you're a$$) moment of adding bald white men with tattoos, was insulting at best. It's not only that Cuban sells and profits from those very hoodies worn by black men that he deems such a threat but more dangerously, it was that very mindset and thought that caused the murder of an innocent teen, Trayvon Martin more than two years ago. Yet Stephen A. Smith felt compelled to defend Cuban by clearly and irresponsibly if not arrogantly declaring that it was somehow the fault of black men by not dressing more appropriately.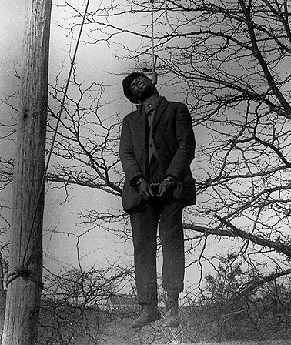 The above picture is that of Sam Carter of the famed Rosewood community of Florida, sadly he was wearing a suit when he was lynched!
If clothing was an equalizer on how African Americans are treated by white America then President Obama should be showered with praise daily rather than the blatant & racist forms of disrespect that he's met since taking office in 2008. If clothing were an equalizer then the African American young man who chose to shop in the very exclusive department store, Barney's would not have been followed and harassed because he was not wearing a hoodie. It's not the clothing that poses the threat to those who are prejudiced or racist against black people, it's what's underneath the clothes, the hue & skin color that determines their scorn and disrespect and sadly the darker the skin tone the more ardent their disdain.
Donald Sterling's rants against Magic Johnson was not about a hoodie or improper attire but the bold and vile rants of a racist who was both angry that a black man who against unspeakable odds, rose to such a station in life equal to his but more so that that same black man and black men like him, no matter how much money or possessions he flaunted, he would never be able to compete for his age & physical being would never match the absolute beauty of the naked male physiques of the black men he often distastefully showed off and bragged about inside the locker rooms to the many women he tried to impress.
In the wake of the tragedies in California, if Americans were honest with its views on race and racism, they would acknowledge that had Elliot Rodger been black (or Hispanic) and not deemed as white (white privilege), when the officers came to do their "wellness check", he would've been either arrested or dead…that's a fact that can not be disputed because there are too many cases with that same scenario yielding one of the outcomes and rarely ever their walking away if never. After all, it was white supremacy that gave the officers comfort in giving him a cursory look at his wellness and it was white privilege that made them ultimately deem him no threat.
If Stephen A. Smith (who really should stick to sports) wants to have a discussion on the ills of African Americans, then I'm all for it but conflating the two issues was more than wrong on his part it was dangerous & completely irresponsible for someone who holds the power of a microphone and especially who's an African American himself. In his unfortunate yet informative debate with Dyson, Smith contradicts himself on so many levels but the most glaring of those came as he outlined his encounter earlier that morning, while unabashedly declaring how sharp he was dressed and as he's cloaked in his "Sunday's Best", approaches a white woman, she upon seeing him immediately clutches her purse in fear. Thus another very clear example of how clothing has NOTHING to do with how a racist views you but their hate or prejudice against the very pigmentation that by birth was given to you is really the source of their disdain.
The above image is that of a Dallas Maverick sweatshirt that Cuban sells and profits from.
What Smith and others who agree with him should find troubling is that those same people like Cuban who as owners and CEO's of major businesses across America, have no problem profiting from the very stereotypes they claim causes them fear. Whether it's the predominately African American basketball players who are often seen in hoodies or the drug, violence & thug culture of Rap Music, white America have not crossed to the other side of the street when it's time to cash their multi-million dollar checks in those billion dollar industries…and even though on these new-aged plantations the athletes and the musicians usually are paid handsomely for their labor, I find no comfort knowing that behind the senior management & ownership of those organizations the divide still exists & those views are omnipresent in their lily-white boardrooms across America…and those are only the things we can see and identify…there are many like Sterling who discriminate in housing, workplace, education & judicial benches across America who have had lasting impacts on the systemic plight of how African Americans are judged and ultimately denied the rights of fairness and opportunities that all men should enjoy. It is these forms of racism that have strangled the lives of people of color in America and continue to be the real threat to the so-called American Dream as it relates to people of color. Yes, It is indeed time to discuss the Inconvenient Truth on Race and Racism in America! It's long overdue…that along with a plan of enforceable action would suit me just fine!
"The only difference between man and man all the world over is one of degree, and not of kind, even as there is between trees of the same species.
Where in is the cause for anger, envy or discrimination?"
Last modified on